OPTION  WHEEL IN ACTION
STRATEGY: Sell cash secured put, get shares, create covered call, REPEAT…OPTION WHEEL
Adjustment NEW ALERT : SELL CHK March $5.50 Covered Calls @$0.60 for each 100 long shares to lower cost basis to $4.85
.
CHK shares were assigned at $5.70 from the November option sale to buy stock at major discount. http://www.bullseyeoption.com/trade-alert/new-trade-alert-october-28th-chesapeake-energy/
A December covered call was sold for $0.25 to lower basis to $5.45.
This March rally presents the opportunity to sell a covered call to again lower cost basis to $4.85.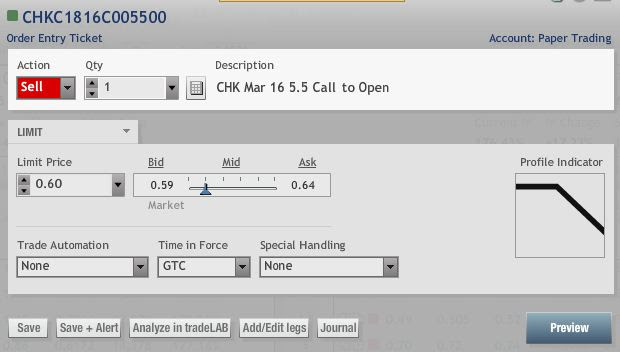 15% return if called out at expiration March 18th.